Corvette vs. Camaro: A Comparison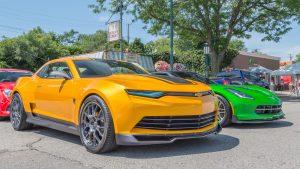 If you're looking for an American sports car, the Corvette and the Camaro have surely crossed your mind. These two vehicles have staked their claim as the iconic aggressors of their respective brands. Few other American cars can match them on the track and the predicament of Corvette vs. Camaro can be troublesome. If you're trying to make a decision between the two, we'll help you through the process.
Part 1: Specs
First, let's take a look at the specs of the two vehicles. The Corvette's base trim is much more performance-oriented and expensive than the Camaro's base trim. The two cars don't really compare at anything below the Camaro's 1SS trim, sometimes called the SS. That particular trim shares a lot of specs with the Corvette Stingray (base).
| | 2017 Chevy Corvette Stingray | 2017 Chevy Camaro 1SS |
| --- | --- | --- |
| MSRP: | $55,450 | $42,905 |
| Horsepower: | 455 | 455 |
| Engine: | 6.2L V8 | 6.2L V8 |
| Curb Weight: | 3,298 lb (convertible 3,362 lb) | 3,685 lb |
| Tire Size: | P245/40R18 front, P285/35R19 rear | P245/40R20 front, P275/35R20 rear |
| Tank size: | 18.5 gal | 19 gal |
| MPG: | 17 city / 29 highway | 17 city / 27 highway |
As you can see, the Corvette has a slight edge in terms of performance because of its weight. It does have a little more pickup, which leaves one simple question. Will you pay $13,000 to be a tad faster?
Intangibles
There are notable differences in terms of the intangible qualities of the 1SS and the Stingray. One is the brands involved. The Corvette is a Chevrolet vehicle; although, it really stands alone as it's own brand. The average driver may not know the manufacturer of the Corvette. The Camaro, on the other hand, is branded as a Chevrolet vehicle.
Tangibles
Another big difference is the interior look and feel of the vehicles. This is something that really stands out in the Corvette vs. Camaro debate. Whereas the Stingray has a luxury feel, the Camaro definitely has a more raw muscle car personality to it. That's not to say it's worse, it's just not as luxurious.
This difference is strikingly apparent in the instrumentation. The Corvette has a large, bright screen that displays a number of readings in an aesthetically pleasing way. The Camaro's instrument panel looks much like an economy car's panel, black and plastic, with a smaller digital screen in the center. Again, that's not to say it's worse. It just doesn't look as pretty, in our opinion.
The 1SS has a lower price partially due to not having some of the Stingray's features on a standard basis. Features like head-up display, performance data recorder and any more than 6 speeds in the transmission have to be added on with a package. There are also a few things you can't have at all with the Camaro, such as a reconfigurable instrument cluster and a 50/50 weight distribution. Although, the Camaro is very close at 52/48.
Part 3: Economics
The obvious winner in this category is the Camaro. It's cheaper to buy, about the same to maintain and fuel, and probably cheaper to insure in most cases. Like we said before, the Corvette is branded as a luxury sports car. Its MSRP reflects that. That may be something that's OK to spend extra money on for some of you. If it's not, the Camaro might be the right choice.
Need quotes? We've got you covered. Click here, select local dealers and compare quotes for free. No obligations involved.